Small Victories Sunday Link Up #41
Welcome to our Small Victories Sunday Linkup, now partying on 8 blogs!
This weekly linkup is designed to linkup your BEST posts that inspire others to read, cook, craft, live well and blog well. Share with us anything that will help others live a happier and healthier life. Sunday is a wonderful day to reflect and celebrate the week that passed and look forward to the week ahead. Our linkup is open all week long so feel free to stop by anytime, it's never too late to linkup with us. If you need writing prompts or to see past linkups, visit our main Small Victories Sunday Linkup page.
Ways You Can Follow Your Hosts:
Tanya from Mom's Small Victories | Pinterest | Facebook | Instagram | Twitter | Google +
Meagan from Sunshine and Sippy Cups | Pinterest | Facebook | Instagram | Twitter |Google +
Echo from Domain of the Mad Mommy | Pinterest | Facebook | Instagram | Twitter | Google +
Alecia from Detours in Life | Pinterest | Facebook | Instagram | Twitter | Google +
Jessica from Positive, Inspired Living | Pinterest | Facebook | Instagram | Twitter | Google +
Rachel from Fit Triangle Mom | Pinterest | Facebook | Instagram | Twitter | Google +
Betsy from Betsy's Photography | Pinterest | Facebook | Instagram | Twitter | Google+
Gail from Frugal & Coupon Crazy | Pinterest | Facebook | Twitter | Google +
Featured Bloggers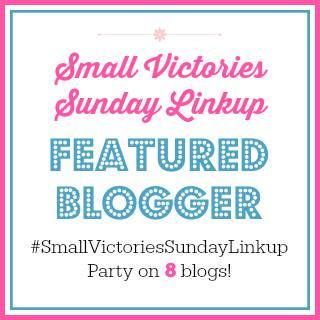 Each week my co-hosts and I will feature our favorite bloggers from the previous week's linkup. Visit each of my co-hosts to see who they've featured too! Stop by Mom's Small Victories to see who earned the Reader's Choice for Featured Blogger. If you're chosen, please grab the code above and display it on your blog.
My favorite post this week was from Betsy Finn of BPhotoArt.com and her post Make Time for Yourself. I liked how Betsy talked about the importance of making time for yourself and exercising. Betsy also reviewed a fitness program called Fe' Fit that can be used at home and provides barre and core exercises plus five other fitness genres. Thanks Betsy for sharing your post!  Be sure to grab the featured blogger code above and display the image on your blog!
My Weekly Recap
 Reading: 
I just finished reading the book The Savvy Mom's Guide to Sons and wrote a review about it. The post also includes a $25 gift card giveaway to Family Christian. I started reading the second book in the Divergent series- Insurgent. I read the first book last summer and got hooked with the dystopian setting and the teens trying to save their world. The movie comes out soon, so I wanted to read the book before I watched the movie. Books are always better. Next week, I will be sharing my review of Happy Habits for Every Couple; it's a fun project based book to strengthen your marriage.
Home & Blogging:
My oldest is tracked out of school (he goes year-round and takes quarterly breaks) and the weather has been absolutely beautiful. Mid to low 70 degrees this past week, a welcome change from the bitter cold. The boys and I have been enjoying walks to the park and playing outside all day. I did manage to make it to the gym 3x this week, and I even got to exercise with my gym girls (happy dance).  I'm still organizing and recruiting people for Team Fit Triangle Mom for the Komen Race for the Cure held in Raleigh on June 13. My goal is to raise $3,000 by partnering with small local businesses and selling team t-shirts. If you are local, I would love for you to join the team as a runner or walker. Click Here to learn how to get involved.
Now It's Your Turn to Share Your Favorite Posts and Small Victories!
Grab this image & code!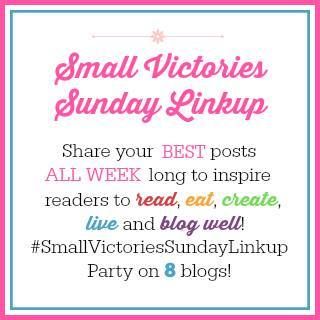 Linkup Rules:
* Following your hosts is not required but appreciated!
* Grab the Small Victories Sunday button and place it in your sidebar or the post you are linking up.
* Share up to 3 of your favorite blog posts you want to share. Enter your link below and let's celebrate our small victories together!
* Please visit at least 2 others for every link you enter. This linkup only works if we support one another, your visits are crucial to fellow participants.
* By linking up, you are giving the hosts permission to share your post on their social media pages to let others know of your awesomeness too!
* By linking up, you are giving the hosts permission to email you notifications when the linkup is open. Your email addresses are not shared and you can unsubscribe to emails at any time.
* Stop by our Small Victories Sunday Linkup Board on Pinterest and like and repin the posts to your boards.
* Spread the word! The more you share about the linky, the more visitors you will get to your content too. Please use the #SmallVictoriesSundaylinkup hashtag so we can find your posts and share them too!