Small Victories Sunday Link Up- 47
Welcome to our Small Victories Sunday Linkup, now partying on 8 blogs!
This weekly linkup is designed to linkup your BEST posts that inspire others to read, cook, craft, live well and blog well. Share with us anything that will help others live a happier and healthier life. Sunday is a wonderful day to reflect and celebrate the week that passed and look forward to the week ahead. Our linkup is open all week long so feel free to stop by anytime, it's never too late to linkup with us. If you need writing prompts or to see past linkups, visit our main Small Victories Sunday Linkup page.
My Small Victories
This week felt like a banner week as I crossed off many of my to-do's and felt quite accomplished doing so. These weekly link-ups have really taught me the importance of counting each task (big or small) as a victory. Here are a few of my victories this week.
Cleaned tubs, showers, sinks and toilets. I dread cleaning bathrooms so I was glad I cleaned the 3 in our house. I even tried some all-natural recipes that I hope to share on the blog soon. I used a combination of water, vinegar, baking powder and lemon juice to scrub the bathtub. It worked really good, but I'm still trying to tweak the recipe. Would love to hear your suggestions.
Exercising is something I enjoy, but the challenge sometimes is finding the time between my already hectic schedule. I made it to the gym 3x this week plus I ran outside on the greenway trail, it was a beautiful day, perfect for my first outside Spring run.
I participated in a parent/child activity at my son's preschool. Safari Day was a blast as Liam and I made a craft, shared a snack, and I watched his class sing some wild songs.
I met with my friend, Allison and learned more about her social media sharing site- KidDilly. We discussed her vision to expand the site's territories and reach more parents.
Blogging. I wrote another post about healthy snacking- Cucumber Water . I have also been working on some upcoming posts- Mom Shortcuts and a review of a new Brixx Pizza.
I finished the t-shirt design for Team Fit Triangle Mom and started selling tees and tanks in an effort to raise funds for the Susan G. Komen Race for the Cure in June. Unfortunately, I found out another friend of mine has been diagnosed with breast cancer. She is already scheduled for a full mastectomy, reconstructive surgery, and chemo and radiation treatments. My heart really went out to her and her young children when I heard her news which motivated me to push even harder to raise funds for the Race this year and support breast cancer fighters. Click Here to learn more about Team Fit Triangle Mom.
What about you? I'd love to hear about your Small Victories this week. Share them in the comments as a way to encourage others. Be sure to also link up to the linky below.
Featured Blogger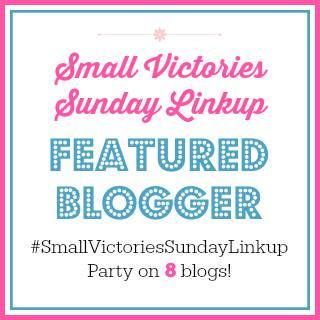 Each week my co-hosts and I will feature our favorite bloggers from the previous week's linkup. Visit each of my co-hosts to see who they've featured too! Stop by Mom's Small Victories to see who earned the Reader's Choice for Featured Blogger. If you're chosen, please grab the code above and display it on your blog. The featured blogger this week is from Kristen of Mommy in Sports and her post Please Stop Calling Me Supermom. I admired Kristen for authenticity as she explained that even a mom-blogger, sportscaster, and baking nerd can forget school forms, showering and taking a deep breath before yelling at the kids all in the same day. This post resonated with me that even while I take on an overwhelming amount of responsibilities; I am no where close to being a Supermom. Congratulations, Kristen on being the featured blogger this week. Grab the code above and display it on your blog. Be sure to visit my Featured Blogger board on Pinterest. Follow FitTriangleMom's board Featured Bloggers- Small Victories Sunday on Pinterest.
Now It's Your Turn to Share Your Favorite Posts and Small Victories! 
Grab this image & code!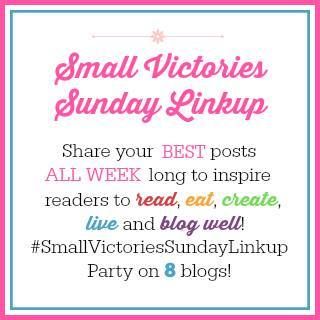 Linkup Rules: * Following your hosts is not required but appreciated! *Grab the Small Victories Sunday button and place it in your sidebar or the post you are linking up. *Share up to 3 of your favorite blog posts you want to share. Enter your link below and let's celebrate our small victories together! *Please visit at least 2 others for every link you enter. This linkup only works if we support one another, your visits are crucial to fellow participants. *By linking up, you are giving the hosts permission to share your post on their social media pages to let others know of your awesomeness too! *By linking up, you are giving the hosts permission to email you notifications when the linkup is open. Your email addresses are not shared and you can unsubscribe to emails at any time. *Stop by our Small Victories Sunday Linkup Board on Pinterest and like and repin the posts to your boards. *Spread the word! The more you share about the linky, the more visitors you will get to your content too. Please use the #SmallVictoriesSundaylinkup hashtag so we can find your posts and share them too!
Ways You Can Follow Your Hosts:
Tanya from Mom's Small Victories | Pinterest | Facebook | Instagram | Twitter |Google + Meagan from Sunshine and Sippy Cups | Pinterest | Facebook | Instagram |Twitter | Google + Echo from Domain of the Mad Mommy | Pinterest | Facebook | Instagram |Twitter | Google + Alecia from Detours in Life | Pinterest | Facebook | Instagram | Twitter | Google + Jessica from Positive, Inspired Living | Pinterest | Facebook | Instagram | Twitter| Google + Rachel from Fit Triangle Mom | Pinterest | Facebook | Instagram | Twitter |Google + Betsy from Betsy's Photography | Pinterest | Facebook | Instagram | Twitter |Google+ Gail from Frugal & Coupon Crazy | Pinterest | Facebook | Twitter | Google +