Small Victories Sunday- Mother's Day
Happy Mother's Day!
Welcome to our Small Victories Sunday Linkup.
As a mom, I truly understand the importance of celebrating moms and people who are like a mom to us. Moms wear many hats and perform many roles that it's nice at least once a year to let her know that you are appreciative. As, I read the many posts that you linked up last week, I was reminded how we each have unique gifts as mothers. Some of us are crafty, sporty, funny, fashionable, charitable, cooks, organizers, and more, but regardless of our gifts we love our children.
The pictures below are of 3 different women who had a impact on my life in their unique way.
My Mom, Grandma and Bubbie all imparted different skill sets to me that have molded me into the mom I am today. My mom and Grandma are artists that can paint a picture or do a craft with the grand kids. I can't paint a picture, but I see my writing as my art. My Bubbie was a wonderful hostess. She knew how to throw a party and provide delicious food and drink for her guests. I enjoy organizing events, and I'm getting better at preparing delicious food.
I am thankful for these women and the different roles they played in my life.  In their own way, they have helped me navigate motherhood with two boys with different personalities. What about you? How has your mom/grandma impacted your life?
Featured Blogger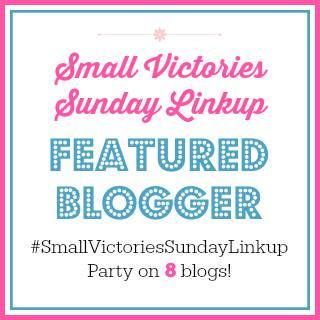 Each week my co-hosts and I will feature our favorite bloggers from the previous week's linkup. Visit each of my co-hosts to see who they've featured too! Stop by Mom's Small Victories to see who earned the Reader's Choice for Featured Blogger. If you're chosen, please grab the code above and display it on your blog.
My favorite posts this week were the creative ideas for Mother's Day gifts.
The Resourceful Mama– Plant the Seeds of Love, Mother's Day Spa Basket
Life From My Laptop– Frugal Mother's Day Gifts
Just One Mommy's Opinion– Dear Mom in Target with a Screaming Child
Thanks for these wonderful gift ideas and encouragement!
Grab the code above and display it on your blog. Be sure to visit my Featured Blogger board on Pinterest. Follow FitTriangleMom's board Featured Bloggers- Small Victories Sunday on Pinterest.
Now It's Your Turn to Share Your Favorite Posts and Small Victories! 
Grab this image & code!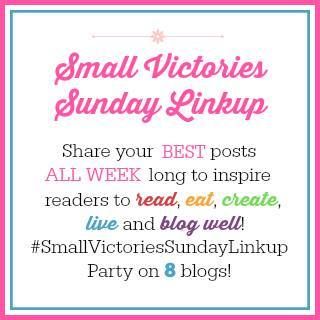 Linkup Rules:
* Following your hosts is not required but appreciated!
*Grab the Small Victories Sunday button and place it in your sidebar or the post you are linking up.
*Share up to 3 of your favorite blog posts you want to share. Enter your link below and let's celebrate our small victories together!
*Please visit at least 2 others for every link you enter. This linkup only works if we support one another, your visits are crucial to fellow participants.
*By linking up, you are giving the hosts permission to share your post on their social media pages to let others know of your awesomeness too!
*By linking up, you are giving the hosts permission to email you notifications when the linkup is open. Your email addresses are not shared and you can unsubscribe to emails at any time.
*Stop by our Small Victories Sunday Linkup Board on Pinterest and like and repin the posts to your boards. *Spread the word! The more you share about the linky, the more visitors you will get to your content too. Please use the #SmallVictoriesSundaylinkup hashtag so we can find your posts and share them too!
Ways You Can Follow Your Hosts:
Tanya from Mom's Small Victories | Pinterest | Facebook | Instagram | Twitter |Google +
Meagan from Sunshine and Sippy Cups | Pinterest | Facebook | Instagram |Twitter | Google +
Echo from Domain of the Mad Mommy | Pinterest | Facebook | Instagram |Twitter | Google +
Alecia from Detours in Life | Pinterest | Facebook | Instagram | Twitter | Google +
Jessica from Positive, Inspired Living | Pinterest | Facebook | Instagram | Twitter| Google +
Rachel from Fit Triangle Mom | Pinterest | Facebook | Instagram | Twitter |Google +
Betsy from Betsy's Photography | Pinterest | Facebook | Instagram | Twitter |Google+
Gail from Frugal & Coupon Crazy | Pinterest | Facebook | Twitter | Google +